360 Anatomical Guides
360ips™ Surgical Guides are a custom-made, patient specific surgical guides. Because these surgical guides are patient specific, you will receive high level accuracy of implant placement following the virtual surgical treatment plan.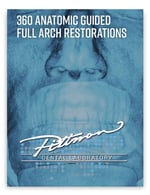 To learn more about the 360 Anatomical Guides and their associated workflows, download the Pittman 360 brochure here or click on the image.
Watch this video of a denture conversion using a 360 Anatomical Guide. Assisted by Pittman Surgical Solutions Chairside Technician. You must log into your YouTube account to view.
To submit your guided surgery plan, click here.