GuidedSMILE
GuidedSMILE was developed for dentists who desire a preplanned, predictable guided All-On-X style surgery. This amazing service delivers anchored bite verification, anchored bone reduction, anchored site drilling, accurate anchored pre-visualization, and a method of transferring all surgical and restorative information for the final restorative conversion phase. Most cases simply require a CT scan and traditional records.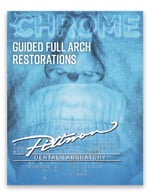 For more information about the Pittman GuidedSMILE All-On-X solutions, download the CHROME Guided Full Arch Restorations brochure here or click on the image.
To submit your guided surgery plan, click here.